About CUCARD
Dedicated to serving children, adolescents, and adults!
In 2004, the Columbia University Clinic for Anxiety and Related Disorders (CUCARD) was founded by Anne Marie Albano, PhD, upon her joining the faculty of the Division of Child and Adolescent Psychiatry. Dr. Albano subscribes to a model of integrating clinical service with research and training, and in the past she oversaw the development of similar university-based clinics in Albany, NY, Louisville, KY, and downtown in Manhattan.
With the support of then Chair of Child Psychiatry, Dr. David Shaffer, and his director of administration, Janelle Greenhill, and with the full support of the acting Chairman of Psychiatry, Dr. Fred Kass, CUCARD's staff of four psychologists began evaluating and treating patients with evidence-based cognitive behavioral treatments (CBT) for anxiety disorders. Psychologist Teresa Piacentini and postdoctoral fellows Sandra Pimentel and Muniya Khanna, set up the initial organizational plan and treatment programs with Dr. Albano. We initially met our patients at the Columbia Doctor's site on the upper east side of Manhattan, and then moved into space at the Newsweek Building, now refurbished as "3 Columbus Circle" on the west side.
Moira Rynn, MD, joined the clinic as Medical Director in 2006, as continued to grow and expand our services in 2012 she became Chair of the Division of Child and Adolescent Psychiatry. Under Dr. Rynn, CUCARD expanded our services in midtown and opened a second site in Tarrytown, NY, under the direction of Anthony Puliafico, PhD. With Dr. Rynn's move to Duke University in 2017, Dr. Jeremy Veenstra-VanderWeele was appointed Chair of Child Psychiatry. Along with Dr. Laura Mufson, Associate Director of the Division, we look forward to further expanding our range of services and programs.
Patient Care is Our Priority: Our Practice is Dedicated to Understanding What Works Best for Our Patients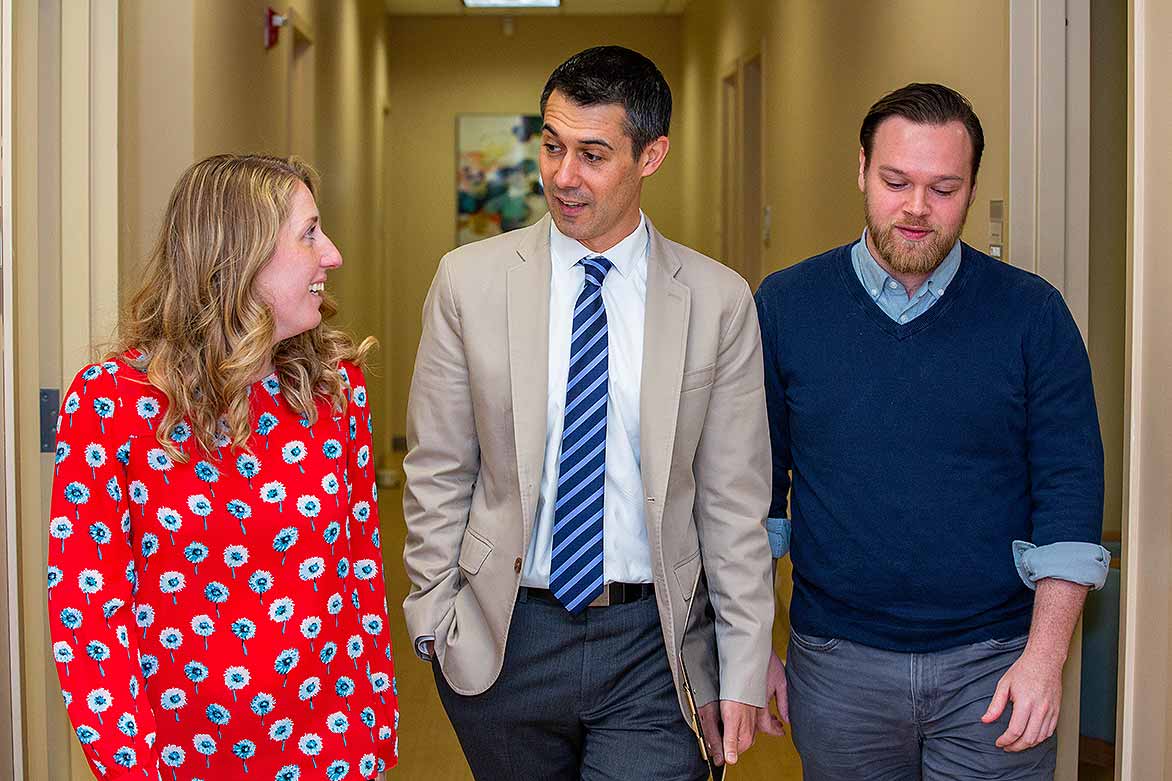 Dr. Albano and the CUCARD team are committed to translating the latest in scientific findings about what works best for patients with anxiety and related disorders, and providing our patients with care that gives the best chance of recovery. Dr. Albano served as a lead investigator in two of the largest federally funded research studies focusing on treatments for youth. The Child/Adolescent Anxiety Multimodal Study (CAMS) and the Treatments for Adolescents with Depression Study (TADS) were funded by the National Institutes of Mental Health. Both clinical trials examined the benefits of cognitive behavioral therapy (CBT), medication, and their combination in treating these disorders in children and adolescents. The lessons learned from these trials are translated into personalized treatment plans for each of our patients' unique needs.
MORE ON WHAT OUR EXPERTISE IS AT CUCARD
Parents Take Note: Anxiety in Preschool is Treatable with CBT
As part of our combined mission in 2008, CUCARD postdoctoral fellows Jon Comer and Anthony Puliafico began developing and evaluating a new treatment approach called "CALM: Coaching Approach Behavior and Leading through Modeling". Steeped in the effective "Parent-Child Interaction Therapy", Drs. Comer, Puliafico and Albano developed CALM for families with very young children, ages 3 to 8, who suffer with anxiety. Using a "bug in the ear" approach whereby the therapist is behind a one-way mirror, parents are "coached" to shape their child's courage in the face of situations that cause distress, from separation anxiety to sitting in the dark, to meeting unfamiliar but safe adults…and to overcome this anxiety. Dr. Jeneane Solz, an expert in the delivery of PCIT, oversees our CALM program at CUCARD in midtown, while Dr. Puliafico and his Tarrytown team offer CALM to families throughout the Westchester area. We are excited by the benefits of this program and the positive response of our families.
Launching Emerging Adults Program
Throughout CUCARD's history, Dr. Albano and the team have focused on physical and emotional development as a key to understanding and helping an individual to overcome anxiety. That is, we focus on not just treating anxiety but also on assisting youth, including young adults, in meeting the tasks of development and overcoming unhealthy dependencies on others, in many cases their concerned parents, that may occur due to anxiety. With the generous support of our donors, Dr. Albano and her team developed "LEAP: Launching Emerging Adults Program" at CUCARD. Aimed at adolescents and young adults, LEAP is an exposure-based treatment that also addresses the parent-adolescent/young adult relationship, and assists parents in letting go while their son or daughter takes on the challenges of mastering anxiety and growing into a healthy independence. We continue to develop and refine LEAP via the generosity of our donors.
In 2013, the LEAP model became the cornerstone psychological treatment of the New York Presbyterian Hospital's Youth Anxiety Center (YAC), a landmark collaborative program that focuses on the unique needs of young adults with anxiety and related disorders.
Thank You to Our Patients and Families!
Here at CUCARD, we think often of the many patients and families who have visited the clinic for services. We are always celebrating the courage and commitment of our patients, from the very young to those well into adulthood, who return for session after session, whether in individual, family, or group therapy, to take on the challenges presented by their anxieties while they gain much relief and increased confidence and happiness. Know that you are our heroes!
Training the Next Generation of Mental Health Providers
One of our other great honors is to train predoctoral externs and postdoctoral fellows in psychology, medical students in psychiatry, and new, emerging professionals. In addition, our staff supervises a cadre of volunteers who are going onto graduate school or medical school. And, many of our trainees find a professional home at CUCARD or move into faculty positions and leadership roles in the field, both here at Columbia University Medical Center and around the country. This makes for a vibrant and creative team who are committing themselves to helping to improve patient's lives for the long term. We look forward to expanding our services and working with many, many more families and individuals from the tri-state area. Anxiety is highly treatable and we are here to help!